Cut-Your-Own Christmas Trees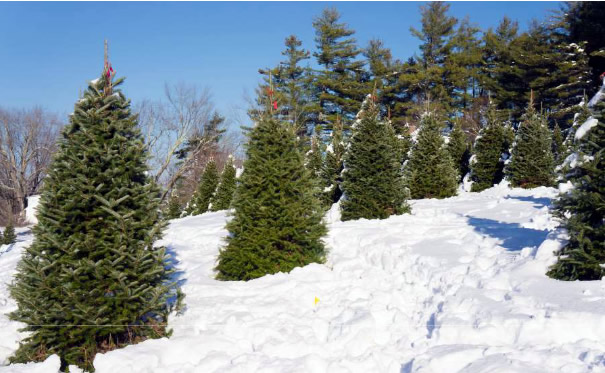 The fields are open starting the Saturday before Thanksgiving with trees up to 11' tall.
Quality trees over 9' will go quickly.
There will be a decreasing selection of the remaining trees as Christmas approaches.
The trees are located in a scenic field 1/8 mile from the farm market in Fryeburg. You will need to drive to the field after you check-in at the farm. The road is well maintained, but a truck is always best. We will provide you with a bow saw and twine to get your tree out of the field. There are no employees in the field to assist you, so be prepared to cut and load the tree yourself.
After you cut your tree, bring it back to the farm to pay for it (there will be additional sales tax). If you would like the tree wrapped for transport, that is done at the farm for an additional cost of $1.00 per tree. We can help secure your tree on your vehicle on the weekends. Again, please check-in at the farm before going to the field.
Hours:
Tree fields are open every day* 9:00am to 4:00pm.
(The market is open until 5:30pm)
*Weather dependent and until at least December 12. After 12/12 the fields may close depending on snow